Black Iron Social @ The Gresham
BLACK IRON SOCIAL: Fenwicks has gone, long live the Gresham. Leicester's most central aparthotel still has the builders in round the back. Some parts of the building are in action with reception doing their thin. And of course the new Black Iron Social restaurant in full swing. We were invited for lunch today. I'll be honest that I did visit a couple of weeks ago and was somewhat unconvinced. I had been really looking forward to my visit to allow the team time to settle in and redeem themselves.
It is a very lovely restaurant. Easily accessed off Market Street, you are drawn through the lobby to the bar where everything is bright in golds and greens, with luscious indoor garden hanging baskets and opulent lampshades. Looks better than I'm describing it I think it's fair to say. The service is on point. The bar and restaurant team really can't do enough for you. It is easy to feel like you are visiting old friends even on your first visit.
Bam Bam and I were given our pick of the tables. We were made comfortable with a highchair and a kid's menu available (although I noticed one starter item from the kid's menu was also on the bar menu but £1 cheaper which seems a bit unreasonable!) We visited at lunchtime so Mama had the 2/3 lunch set menu to choose from . There were also some very tempting snacky items on a bar menu.
Lunch Menu
Bammers and I shared a 3-course meal. We also got mac and cheese from the bar menu for £5 to make sure we both had enough to eat. Unfortunately, the macaroni had totally split. We got slightly salty, overcooked pasta in a fatty stock with melted cheese and breadcrumbs on the top, which was not particularly appetizing. Well, not at all appetizing actually. Worth noting our server was extremely apologetic and offered to replace the dish although with a little one in tow it wasn't really worth the hassle for me.
The three-course menu was better generally, better presented and at first glance offering great value (3 courses for £22) but sadly this was predominantly in name only. We started with the curry cured salmon. It was beautifully presented and tasted fantastic. There was not a note of curry to be found though, excepting the delightful cracker that accompanied the dish which was full of spice.
Fantastic Service at the Bar
A real upward swing was to be found in the bar, however. I ordered the smoked Old Fashioned and it was an absolute dream. Served with a billowing cloud of hickory smoke, this was a beautifully mixed drink. It had the ideal balance of bourbon and bitters. There was a fantastic alcoholic kick balanced with just a hint of sweetness to offset the booze. The smoke was a lovely touch that flavoured the whole drink and made it a smooth dream to imbibe.
Next up we had the steak. I had high hopes for this. It was the only real option on the main menu because Black Iron at Winstanley House has such a great reputation for their grilled meats. And it was a very good steak, a lovely tender cut. Unfortunatel I found it a little disappointing because my request for rare was not noted. It was medium-well done at best. But as I say, still enjoyable because the meat was of such a pleasing quality. The accompanying salad was also glistening with oil. A little overdressed for my tastes but that could well be personal preference rather than a quality issue.
Happily, the fries were crisp and tasty, but they weren't really the star of the dish! I took the extra peppercorn sauce, which was full of flavour, and added a nice element of spice. This dish went well with a nice drop of Malbec from the wine list – an enjoyable wine with good structure that stood up well to the powerful meaty flavours.
And to Finish
Finally, we finished off with the chocolate mousse. The plate crowned with three giant shards of various tuile biscuits. One was a gold-dusted and chocolate-based affair, another almost honeycomb-like and the third a standard tuile biscuit topped with flaked almonds. They were all delicious, but the mousse perhaps was just a little on the grainy side, as though it was made with caster sugar that hadn't quite been fully incorporated.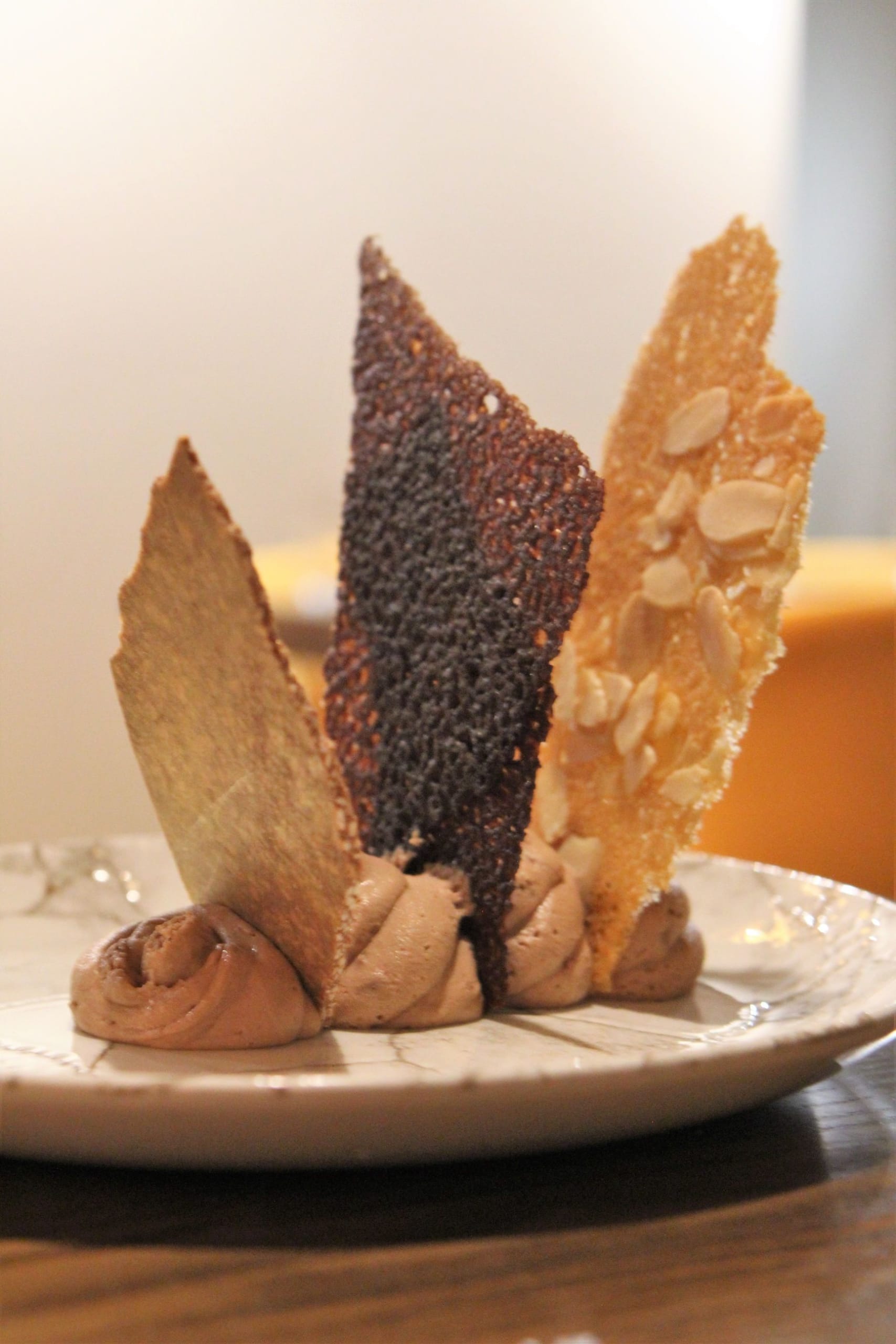 So it was an enjoyable meal, don't get me wrong. The front of house team were an absolute joy. Efficient, friendly and hugely helpful they really made Bam Bam and I feel special. The food quality is surely high, but the kitchen are missing the mark in some really basic areas. I hope that this is just teething troubles that will soon be resolved. The restaurant is beautiful, but at the back end we were plunged into relative darkness at intervals due to an issue with the main lights.
Meanwhile the temperature crept up and up during our meal until it was almost unbearably hot at the end. Again this is a known issue with the automatic heating system that I hope will be resolved soon. Just a few too many teething problems for me to be able to recommend a trip to Black Iron Social at the Gresham just yet. It does have huge potential to become a real foodie destination once those problems are resolved.
Thank you to Black Iron Social for inviting us to review. My review reflects my honest perception of our visit.