Community backs West End Brewery
WEST END BREWERY, LEICESTER: The locals have been out in force this week as the West End Brewery held two special supporters nights for their Crowdfunding community. Leicester's first microbrewery had suffered a severe blow as the company they were buying a canning machine from went into liquidation, taking around £8000 of the WEB's hard-earned money with it. They launched a crowdfunded and now, £10k later, they have a small canning machine installed and I believe about 100 dedicated supporters to thank for the success. And happily, we were able to play our own small part in that success with a modest donation to the cause.
I have always enjoyed my visits to the West End. Although with the advent of Bam Bam they are perhaps more infrequent than they have been, it has always been a great place to sit at the bar and shoot the breeze. Josh was a very young brewer when the pub first opened, but has grown into his skills as both brewery and micropub operator, with the steady hand of Pub Dad occasionally visible in the background.
It is hard to believe now that there was a time that we didn't have a single brewery in the city centre. The West End boast a very popular staff team in support too. They picked up Russ at the fall of the Criterion in its greatest iteration, a real asset to bar stewardship in our fair city. Tina has also been a welcome addition, bringing yet more welcome cheer along to the pub.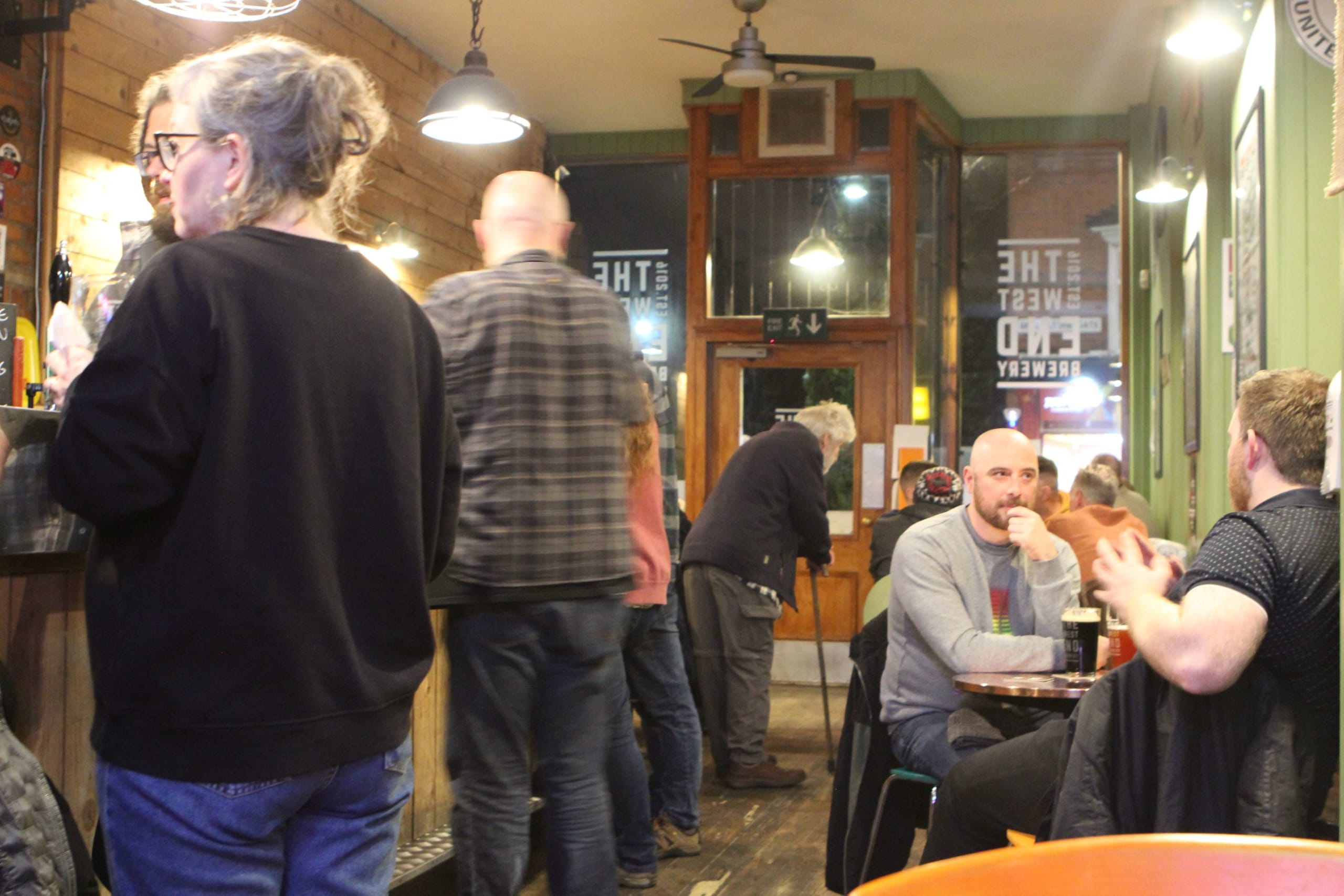 West End Brewery in a can
The beers have always been consistently excellent and indeed continue to grow in quality and variety as the years go on. First, we saw keg lines making their way on to the bar, now of course we will be seeing West End Brewery in cans for the first time. I rarely order outside of the WEB menu when I visit, but if you do, take a look at the bottle and can selection – fans of Belgian beers, in particular, will be impressed at the choice on offer down Braunstone Gate. More recently, the addition of a pizza oven has taken the pub snack game up a notch too, this is the aspect that received the Bam Bam seal of approval!
Just that little bit out of the way for city centre drinkers, the West End has always really felt like the heart of its own little community. It is the pub where you are always welcome whether on your own or with friends. The atmosphere is always great and they hold particularly successful quiz nights if that floats your boat. I'm so glad that they were able to bring something so positive out of such devastating bad luck, particularly coming after 18 months of pandemic uncertainty. This is a little slice of fried gold that you should not miss, should you visit our fair city.