Easter Inspiration 2014
Spring is in the air (a little bit) and all the atheists amongst us are looking forward to Easter, in all its chick and bunny filled goodness. Chocolate, two bank holidays, what's not to like? Well, normally Easter passes me by I must confess, so this year I'm trying to be organised and have a little looksee at what's out there. If you're looking for something crafty, something fun or a special gift for a loved one, you'd do well to make a start on your preparations with the Extreme Housewife's look at this year's Easter offerings.
Felt Easter Basket
£1 from The Works
I'm starting with this basket, because it's just the cutest thing. Get yourself an Easter Egg Hunt going off with one of these.
For a homemade egg hunt, why not paint your own boiled eggs to find, or even better, why don't you crochet your own eggs, that can be used year after year? This free pattern is available at Petals to Picots. They make super cute decorations for an Easter table centre as well.

Easter Egg Lolly Mould
£3.99 from Lakeland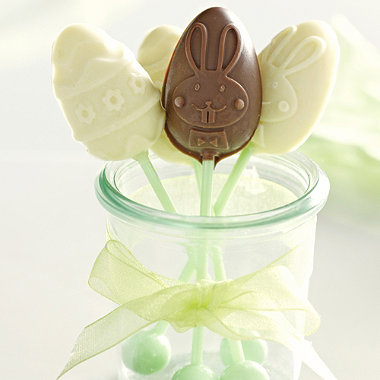 Rather than making your own Easter Eggs, which looks fiddly and annoying, why not keep it low key with some chocolate lollys? Lakeland's moulds are a quick, easy and conveniently sized product that lets you make your own treats with a significantly lowered chance of covering the entire kitchen, and yourself, in a thin sheen of chocolate.

They would also make lovely gifts or treats for visiting relatives. Cover a piece of floral foam with seasonal greenery and daffodils to make a great lolly display stand! You can poke the sticks in so they are shown off at their best.

Personalised Silver Bunny Necklace

£32 from Lily Charmed at Not on the High Street

There are a lot of cutesy bunny based necklaces out there, but this is definitely one of the nicer I've seen.
With your own letter charm to personalise, this makes a great little present to thank whoever that busy bunny in your life is. Or get one for yourself.
Or buy two, then you can keep one and give the other away.
Tefal Toast N' Egg
Currently reduced to £29.99 at Home and Cook
What better Easter breakfast could there be than eggs and toast? Well now you can make it in slightly less than the normal short time it takes to create with this toaster and egg poacher all in one. It also features a warming plate, so if you happen to have the odd cooked sausage hanging around as well, you can heat that up too. And who doesn't have cooked sausages hanging around, just waiting for breakfast time? Anyway. This is a fun gadget. Totally pointless, but that's what gadgets are for.



Seed Pack Organiser
£19.95 at Garden Divas

Now Spring is in the air, you need to get your gardening underway, so a great Easter gift for someone like… well, someone like me… would be a cute little seed organiser. All mine life in an old, lidless icecream tub. It is most indignified. So this lovely organiser is a great gift for your favourite gardener at Easter. Get those Spring vegetable seeds organised and close at hand.

Enamel Bake Set
£52.95 from Howkapow


Ready for all of your great Easter culinary creations, you could treat yourself to this lovely enamel bake set. This five piece set is oven safe, dishwasher safe and can also be used on the hob for a great gravy.

Easter is great time to break out some pie recipes – the delicious spinach and ricotta of the Italian Torta Pasqualina, as per the great recipe from Italian Food Forever. If you're having a cute overload, why not try a nice Rabbit Pie. The English Kitchen has a lovely recipe.