Those of you who have been following my blog for a while may remember I posted about my experience trying to quit smoking using Champix early in 2012. And I am still not smoking now – one year and two weeks on. I think it's time to define myself very much as someone who does not smoke. I've not had one slip or slide on the path – the Champix really worked for me, although it's quite a while ago now so I don't really have any more comments to add about the quitting process and what that was like.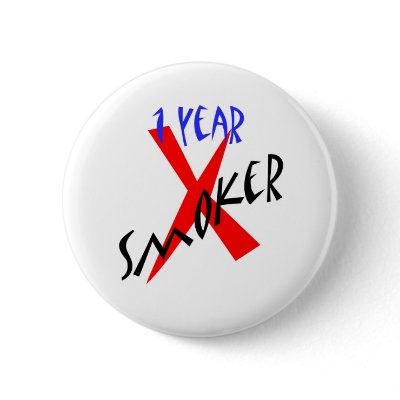 This means that I have not smoked at any point during 2012. I'm really pleased with this because I know that the health benefits of getting off the ciggies before you are 30 are significant, so it was the right time to get on with it. I put on over a stone in weight, however, I definitely wasn't expecting the almost constant urge to snack in those first few months. I kind of let myself go with it though, in order to not make things more difficult.

I started to lose the post-smoking weight I put on in May 2012, and then a couple of months later I joined in with all my online Diet Buddies as a bit of a support network, and now I've finally got back to my target weight, which feels great.

I'm back at the gym now and of course, in February I ditched the bus and started cycling everywhere. I think that all of this activity has really helped to sort out my weight, and of course without quitting smoking first I doubt I'd be bothered to do as much as I am doing now. The weird thing is that now I'm getting to the point where I'm really enjoying hte exercise. I miss the gym when I don't get to go, and it definitely feels strange if I've not been on the bike for a day or two!

So, 2013 is shaping up to be another good, healthy year for me. I am determined that 2013 will be a time of maintained weight and increased body tone. I think it's good to set goals – what are you heading for in 2013?

I'm writing these reflections as my entry to the Get Fit Feel Epic competition from Moneysupermarket.com with Mum Reinvented – thanks for the competition, the prize is a FitBit, which I really, really want, so I've definitely got my fingers crossed on this one!