Blue: The Autumn Winter 2012 Trend
Midnight blue at Versace
The Duchess of Cambridge has been rocking cobalt blue, and various other shades have been worked all over this year's catwalk. More refined and elegant than this Spring/Summer, blue has become more toned, more grown up and more ready for autumn chills and winter rains. It also promises to deliver a great set of styles ready for this year's festive season – a real improvement on the little black dress boredom or over the top sparkles that we've been subjected to over the last couple of years.

And I for one can't wait, I think blocks of blue creates a great look that is appropriate for both work and leisure. As part of the DUO blogger competition, I have put together my ideal outfit to run through a day at the office to demonstrate that this trend can be worked into your professional, as well as your personal life.

So, picture the scene – you head out the house, fresh for a day of meetings with Senior Management, handling public enquiries and catching up on paperwork. You need an outfit that is professional, smart and refined but comfortable at the same time.
I could not resist but base my outfit around the gorgeous Idette brown suede knee high boots (£230) from DUO. They look so luxurious and comfortable, yet the leather detailing just screams quality and class. I know not everyone would put blue and brown together, but for me it's a classic combination – subtle and earthy, when the shades are right.


I'd team them with this lovely blue flippy hem dress from Warehouse. It's a lovely shade of blue, perhaps a tad less harsh than a midnight blue and also a bit more reserved ad suited to the season than a pastel blue. The lovely hem detail is almost reminiscent of the peplum detail that is so popular at the moment, but a bit easier to wear for a range of body shapes. The neck line is also a real winner for me on this piece, although I think it begs for simple accessorising to complement the simplicity of the cut.



I would match it all, for smartness, with a lovely vintage wool jacket from Versace it is available from vintage retailer, Rokit for £120. Great tailoring, lovely buttons and the right length to complement this outfit, if left undone. I wouldn't add anything further to this workwear combo, except for a matching blue nail polish, because there is enough detailing and interest in the clothing itself and the colour combinations. In this picture the colour matching looks slightly off, unfortunately, but comparison shows this is clearly a similar if not the same chocolate brown shade as the DUO boots.
All that remains is to pick a suitable bag. Wearing a lovely outfit like this, I'm not lugging tonnes of files around, so just something suitable for notepad and pen and the usual phone, wallet, keys will be fine thank you!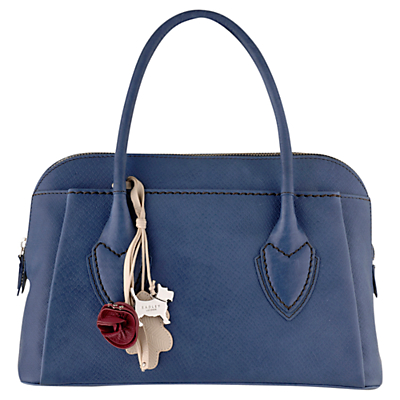 I would pick this nice Radley number, £139 from John Lewis. It's a complementary shade, a great shape and of course, as you would expect from Radley, it will be a great quality.

So that's my take on this season's blue trend. This reflects my personal style as well as the highlights of this season's trends. What do you think of my choices? Do you like to wear blue?